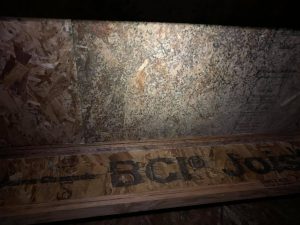 Boise, Idaho Mold Remediation
Finding any type of mold in your home or on your property can be incredibly stressful. After all, mold can be potentially harmful to the structure of your home and everyone in it. Mold is simply not a problem that you can ignore or put off. Because mold can spread quickly, you need to address it as soon as possible. You want to be sure that you are getting rid of the mold for good. When it comes to mold remediation, fast and effective treatment is critical because minor damage now can lead to severe damage if left unattended. HomeGuard is equipped with the tools and equipment needed to professionally remove any mold, both commercially and residentially. We work to prevent the spread of spores throughout the affected area by using containment protocols and work methods designed to remove AND contain the material. We offer air clearance testing post-remediation to validate that the project has been completed and that safe work methods were enforced.
HomeGuard Environmental serves the entire Treasure Valley, and surrounding areas. Our trained technicians are more than capable of testing for any mold project. Along with a visual inspection, our air clearance testing can properly identify the types and quantities of any spores found. We work hard to ensure that the source and symptoms of the mold are taken care of.
Using a mold remediation professional will not only ensure safe and effective removal but will save you time money and stress.  Prevent future problems and protect your investment with professionals that are licensed ensured and use professional equipment that gets the job done right.